Real Life Fall Retreat
Our Fall Retreat at Sunriver Resort features beautiful meeting spaces and cabins, incredible scenery and adventures, powerful worship and teaching times, and opportunities to form amazing friendships. The speakers and theme change from year-to-year to keep things fresh, but the outcome is always the same: lives are changed, friends are made, and students grow in their relationship with Jesus.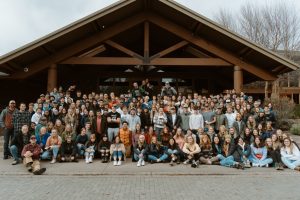 ---
Sessions for Worship & Teaching
During the the four meeting sessions at Fall Retreat, you will listen to bible teaching from great speakers and experience rich times of worship. Our goal is to create an environment where students can find spiritual growth and be strengthened as followers of Jesus.
Cabins & Cabin Times
For your accommodations, you will be grouped with a cabin of ten people, guys and girls are separate. The cabin groups provide a way to connect at a deeper level, process life lessons you're learning, and pray together. Don't worry, everyone will have a comfortable bed!
Free Time, Games, & Meals
There's plenty of time for activity and adventure during free time between sessions. You'll also, enjoy participating in our coordinated games conducted during the sessions. Cabin groups also enjoy meals together made from the food we stock in the cabin for you!