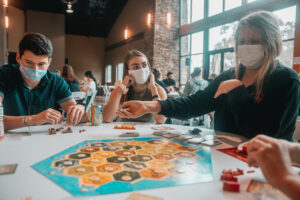 Real Life is a community of college students at Oregon State University learning to follow Jesus and share his hope with others
---
Real Life is on TUESDAY NIGHTS at 7PM!
What does Real Life look like during Covid?
– Currently Real Life is meeting at Calvary Corvallis in the sanctuary where we can social discance and follow all safety guidelines laid out by the CDC and governing authorities.
– Small Groups are following all the social distancing guidelines and precautions laid out by the CDC and Oregon State! Make sure to bring a mask when you come!
– Currently, we can only host 100 students in the Calvary Corvallis Sanctuary. We will also have small group leaders available in the MU to watch the livestream from campus! These groups will also be practicing all social distancing and covid guidelines!
Also streaming ON FACEBOOK & YOUTUBE
STAY CONNECTED: Facebook | Instagram | PODCAST VIA WEB  | PODCAST VIA SPOTIFY
---
(Sep. – June below)
Who: College students
When: Tuesday Nights at 7pm
Where: Calvary Corvallis (Livesteaming on Facebook & Youtube)
What: Join us to study the Bible, learn about Jesus, grow in your christian faith, and fellowship with other students. New people and visitors are always welcome.
Meeting Location:
More ways to get connected at Real Life:
Practical Ways to Serve | Fall Retreat| Spring Retreat
---
Recent Messages + Podcast
Events:
Spring Retreat
Fall Retreat
Real Life Staff:
Chad & Bethany Weaver
Jonathan Beeghly
Jema Bacho 
Real Life Interns: